In the fast-paced life, it is always a blessing to have access to ready-made meals. However, if you think that this is not a healthy option, you can always cook quick healthy meals at your home. They will not consume more than 30 minutes of your time.
Quick Healthy Meals for a Healthy You
You might think that it is easy to cook healthy meals, but the real trouble arises when you have to look for the raw ingredients that may or may not be available. Because you do not always have access to the healthy options of rare fruits and vegetables. However, you can always make use of online grocery services to get the ingredients that you cannot otherwise find at your local grocery store.
The chances of you not finding all the ingredients are rare. But just a heads up.
To make it easy for you, this blog contains healthy meal options for you. The meals are divided into segments to facilitate you- breakfast, lunch, and dinner. Hope they help you adopt a healthy lifestyle for yourself. As they say, you are what you eat.
Healthy Recipes for Breakfast
Grain Free Egg in a Hole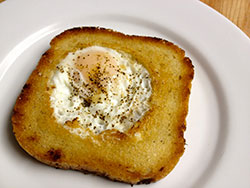 Egg in a hole aka Pirate's egg will take you back to your childhood days. Because nothing will make you more nostalgic than having this meal as your breakfast. Not only will it give you feelings of nostalgia but also give you the power to make it through the day. Because this protein-packed meal has a high content of energy. And is a very healthy option for you to opt for.
One can never go wrong with a meal packed with protein and veggies.
Coffee Chia Pudding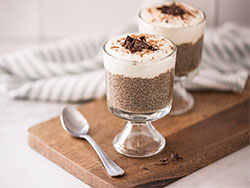 Chia pudding is a very common meal consumed in the majority of the houses these days. The name's pretty common across a large number of homes. The reason that this pudding's name is on the list is that it includes one of the best concoction- coffee.
Moreover, it is easy to make and saves you time that you would have otherwise spent in preparations. The easy and convenient recipe apart from the fact that chia seeds are healthy for you to make it a considerable option.
Protein Pancakes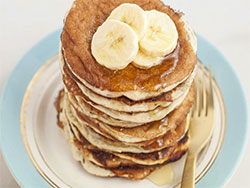 Seems like pancakes are not all about carbs and unhealthy meal. In fact, protein pancakes are one of the healthy recipes for breakfast that this blog includes. This recipe is a perfect candidate for this blog post under this very section because it provides you with the right amount of protein. Hence, keeping you active and energized throughout the day.
Opting for this recipe will also mean that you do not have to rely on the protein supplements to fulfill your daily intake. As it comes packed with just the sufficient amount of proteins.
Having discussed the available options to you for breakfast, it is time to consider options for the next meal of the day- lunch.
Healthy Meals for Lunch
Raw Nori Wraps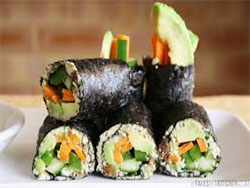 If you wish to have a ridiculously healthy lunch, then this should be your go-to option. Because this meal comes packed with veggies and nutrients. The best part is that these wraps give you the feeling that you are having sushi. Well, this will relate to sushi lovers.
If you are a meat lover, then you do not have to do with veggies alone, you can always toss in some amount of meat in the wraps.
Chicken Sushi Bowl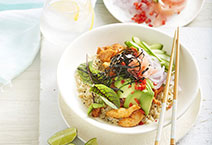 Yes, the sushi part is alarming because chicken is NOT sushi. However, the bowl gives the feeling of sushi. Hence, the name. The base for this bowl consists of cauliflower. The aims at tasting like a poke bowl but instead of poke you put in the chicken.
This Asian dish with its tangy flavors is another healthy meal option for your lunch.
Collard Wraps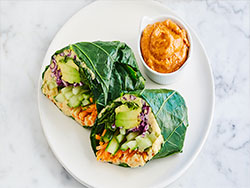 Wraps do not necessarily have to be carb-based. You can use a vegetable leaf to stuff things inside it and call it a wrap. Collard wraps use the leafy greens instead of the tortillas and is a very filling option for your lunch meals.
It is fresh, healthy and takes less time to prepare.
Olive Oil Tuna Salad Wrap
Tuna provides you with the perfect amount of low-calorie protein. This wrap is light which means that you can carry on the chores for the day without feeling sleepy. If you are looking for ways on how to stay fit and healthy without consuming much in lunch, then this should be your go-to meal.
Not only is this a light meal but is also full of nutrition.
Healthy Food Recipes for Dinner
Pesto Baked Chicken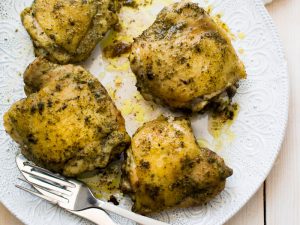 Almost everyone craves for a savory dinner. Pesto baked chicken provides you with just that and much more. Whether you are struggling to lose weight or are planning to build your muscle, this healthy dish should be your go-to the dinner meal. The chicken will give you a filling feeling.
Lettuce Wraps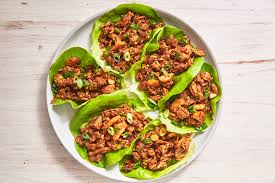 Don't blame us, but wraps are a very healthy substitute to all those carbs. If the wrap is not a tortilla one that is. A lettuce wrap provides you with high nutritious value. You can fill the cabbage leaf with any form of chicken batter that you please. And turn it into a healthy food recipe.
Greek Style Sheet Pan Chicken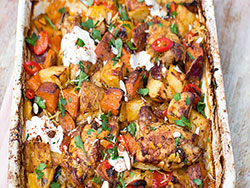 The best part about this dish is the way it looks when you serve it. It will fool your family into thinking that you were in the kitchen for hours. But guess who spent less than 30 minutes in preparing this meal? YOU. It will only take you 5 minutes to preparing it before you put it in the oven.
With this, our list of the most healthy meal options to cook under 30 minutes comes to an end. Hope you try them all. The best part about these meals is that they provide you with a balanced diet. Which means that you do not have to go hunting for vitamins for high blood pressure or looking for medicines to control your diabetes in the pharmacies. These meals are enough to keep the number of minerals and vitamins in your body at an optimum level.