Staying physically active is pertinent for a quality life as you age. Unfortunately, so many seniors face mobility challenges as they hit their 50s. Does aging mean you will have to be stuck with limited mobility for the rest of your life? No! With the right type of exercise for senior, aging adults can walk without being dependent on anyone.
Check out these fitness tips for men over 50, which can also be followed by women to stay on top of their physical health and walk more freely for the years to come:
Start Slow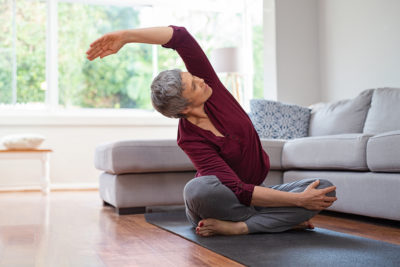 One of the most common working out mistakes is overburdening yourself with physical work. Just because you have made up your mind to start an exercise for the senior program, doesn't mean you put your body in stress.
Never rush into too much too quickly or else this could lead to an injury. Our bodies need to adjust to new movements especially when someone wasn't working out for a long time.
Overdoing leads to burnout and injuries. To stay safe, take one day at a time. This will make you more confident about moving. Even small changes can lay the groundwork for significant mobility improvements.
Best Types of Exercises
No matter what your physical condition, there are some exercises you can incorporate into your routine. For poor health no one over 40, follow these workouts:
Cardiovascular Workout
Cardiovascular exercise such as running makes your fitness better. The heart rate raises and your endurance increases. Other cardiovascular workouts include water aerobics, swimming, tennis, dancing, cycling, and walking. Even if you are confined to a wheelchair, you can still perform some form of cardiovascular exercise.
Strength Training
Use weights and other resistance for building muscles, improving your balance and bone mass. Those with limited mobility in the legs should focus on the upper body strength training. Similarly, those who have a shoulder injury should focus on the core and legs.
Flexibility Workout
These include yoga and stretching exercises to improve your motion, reduce pain, body stiffness, and prevent injury.
Workout Daily
Just like one has to take medication and watch out the diet to control high blood pressure, seniors must exercise every day to improve their mobility.
The Mayo Clinic says committing to regular exercises has plenty of benefits starting from enhanced mood, improved sleep, reduced risk of hypertension, and cardiovascular diseases. Being regular and consistent in your workout is also one of the most commonly heard weight loss tips for over 40.
So, even if it's a 10-minutes' walk, walk every day. These few minutes you spend will lead to growth over time. Establish a ritual but the focus should be developing the habit of working out before the results.
Practice Safety When Exercising
Stop If You Experience Pain
While exercising, if you experience discomfort, chest pain, shortness of breath, irregular heartbeat, or dizziness, stop right away. The best way to avoid injury is to listen to your body.
Don't Involve an Injured Body Part
Let's say your arm is injured. In that case, pick an exercise that involves the lower body and vice versa. When the injury is healed, slowly head back to using that body part.
Warm Up, Stretch, and Cool Down
No matter what the physical activity, always start by a light warmup activity such as shoulder rolls and swinging. Do light stretching and then begin your exercise routine. Once you are done, cool down with deeper stretching.
Stay Hydrated
Always drink plenty of water before performing the workout routine.
Wear Appropriate Apparel
Dress up in your workout clothes. Wear supportive footwear as well to avoid injury and prevent movement restriction.
Listen to Your Body
Seniors tend to have mental barriers too that keep them from exercising. For instance, they would know the benefits of running but won't run because of the fear of falling. It makes sense to worry about things like these but this is also true that as you get stronger, flexible, and more balanced, you gain more confidence.
While exercising, don't ignore the signs your body presents. Minor discomfort and aches are typical when starting. However, if you experience joint pain or sharp pans, reduce the movement. Remember your goal is quality, not quantity. Therefore, always do slight bending and movements. Just like you would be extra cautious about weight loss diets fail, you must be extra cautious about the signs your body presents.
Conclusion
The importance of exercise for adults cannot be overstated. In order to avoid mobility issues down the road, it's best to work out every day. On the other hand, if you are struggling with mobility, you can still join an exercise for the senior programs to gain your balance, flexibility, and most of all, confidence.